"I am very impressed with this CD. Kathy's use of electronics, and the inclusion of strong compositions, fits in well with my programming. I find the entire CD to be pleasant, and there are several tracks that I especially enjoy - in particular, "Indigo Visions" and "Still Life", as well as "Mockingbird Electric" and "Moon Steps". "Still Life" is perhaps my favorite - a truly stellar composition, delivered very effectively. Very cool. This CD provided my introduction to Kathy Raimey. I hope to, at some point, explore her music further."
CKUW, "Shades of Classics", John
"A very beautiful recording from Kathy Raimey, and one that I will utilize on my program. I also rated this CD high on my ZMR report."
"Love her album. We are releasing a Chill channel shortly and we'll add Kathy to that one."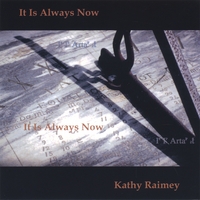 KATHY RAIMEY "It Is Always Now" Spiral Soundcase (2007)
REVIEW - Bill Binkelman, New Age Reporter
"It's not easy coming up with a unique enough blend of musical styles so that someone as well-traveled as yours truly is struck by the album's individuality. It's this quality which makes piano/keyboard player Kathy Raimey's, "It Is Always Now", so special though. Dexterously traversing from the opening ambient/spacemusic synth washes and twinkling starpoints of "Sustainable Space" to the later plaintive piano accented with udu drum rhythms of "African Pearl" (as well as many other songs), Raimey displays an uncommon ability in navigating through the disparate waters. While new age music fans may balk at the relative lack of overt continuity, it's a moot point from my perspective because the artist's "fingerprints" are easily discerned throughout the CD. Nothing here strays that far afield from the quiet reflective nature of the release (i.e. there are no techno numbers on the disc).
"Many Hands Make Light the Load" gently walks down the road amidst soft piano and a just-right application of synth strings and is followed by the electronica "lite" of "Riverbend" which blends classic new age music bell tones with pulsing electronic beats and flowing synth pads. "Quiet Rain," the next track, is a gem, with minimal mournful piano, set against sampled udu drum rhythms (as in "African Pearl"); it's a highly evocative piece, perfect to accompany a late afternoon rain shower outside. While "Bear Dreams" (described in the liner notes by the artist as "A soothing lullaby for times of hibernation") is quiet and serene enough to fall asleep to, it'd be a shame to do so because the melancholic song is suffused with deep feeling. The CD's next unexpected/atypical twist occurs on the next song, "Heart Murmurs," which is a subdued mixture of fretless bass beats, subtle thumping bass drum rhythm, and quirky electronic effects. Despite its obvious difference from other songs here, the song is subdued enough that it doesn't derail the album's overall mood. The trait the artist exhibits here is what I referred to in the opening paragraph about her "fingerprints" being a unifying factor throughout It Is Always Now. Other tracks on the CD include an amalgamation of ambient textures and new age melodicism ("Illumination"), a pensive solo piano number ("Break of Dawn"), another exploration of piano mixed in with electronica textural rhythms ("Soliloquy"), and the title track, a vocal mantra (the mantra is the song's title) set against a background of assorted chugging crackling electronic rhythms. While Raimey is in fine voice (she reminds me a bit of Claire Hamill circa Voices), the song itself is probably the weakest one on the album, although this judgment is colored by how good everything else here is. The mantra's downside is its length (four and half-minutes of "It Is Always Now" multi-tracked gets a bit much) as well as the electronics employed which lack a sense of melody supplying only textures and beats.
The album closes with a reprise of the opening track, this time titled "Sustainable Space Two" and nearly double in duration (close to six minutes long versus the first song's three minute running time). It's a smart move on the artist's part as this is easily one of the CD's best cuts.
The mantra piece notwithstanding, "It Is Always Now" can be summed up with the words "delightfully different." The CD is not different in that the music itself is distractingly unique or too "out there" (although there is little here I'd refer to as cliché or derivative). It's different in how Kathy Raimey expertly merges her electronica/ambient side with her softly melancholic new age side. The resulting music reveals an artist to keep a close eye on to see what she does next. Based on this album, it will be both worthwhile and unexpected. "It Is Always Now" is solidly recommended by this jaded music critic."
************************************************ REVIEW - RJ Lannan, New Age Reporter Timely Ambience "Composer and pianist Kathy Raimey offers not just a solo piano album, but a recording filled with ambient tracks that include electronica, voices and ethnic instruments. Put it all together and you get a sound that is out of the ordinary, inspiring and very entertaining. "It is Always Now" has music that is quietly beautiful, soulful and always emotional. I compare her to Suzanne Ciani or perhaps Doucet. I found the title of the album "It Is Always Now" a bit ambivalent, but that is how my mind works. First I thought, yes... everything is urgent. Take care of it now. Then I realized that perhaps life could be enjoyed in the now. Now that makes more sense. You can tell right away that this is an album of cryptic titles chock full of ambiguities. The recording opens with the track "Sustainable Space". It has a twinkling sound that washes over a string background. You feel that the space is right in the middle of your own mind and that with music such as this, dreams are possible.
"Quiet Rain" is exactly what it says. An unexpected mild February day where the clouds turned to mottled gray blankets, the wind spoke like a hushed human presence and the rain came down like tears from the gods. They wept not from despair, but a peaceful joy for the coming of spring and all the promise that it holds for mortal man. Soon there would be life renewed. Green and spiritual. This is definitely my favorite on the CD.
One of the lightest tunes on the CD is called "Riverbend". I listened to this one several times until I realized that the song flows and sweetly whispers about the undiscovered that is about to be. Like the road less traveled, the unbeaten path or the surprise around the corner, it is the unexpected that keeps everything from being humdrum in our lives. One line from a William Faulkner story comes to mind, "It is time to say good-bye to the things you know and hello to the things you don't know."
"Illumination" was surprisingly industrial in nature. It featured metallic thunks, Tibetan gong-like percussion and a wafting, high-pitched melody. If we think of something illuminated then it must be in the spotlight. Or is it enlightenment of a different color? The song to me was discordant at times, but it grew on me. You cannot find harmony without understanding discord.
Kathy's way of opening her heart to the music and to the listeners is called "Soliloquy". Her echoing piano is almost lugubrious as it sings the hopes for the successful marriage of life and music.
Kathy's voice introduces the title track with the refrain "It Is Always Now". Layers of echoing voice and a strong, urban beat fractures the lull in your head. The nightclub excitement is strong as is the repetition that the moment is at hand. It is certainly not my favorite cut, but the album has so much to offer that something atypical is considered refreshing.
The album is a bit of an emotional or perhaps, a musical roller coaster. The variety is a tribute to not only Raimey's compositional talents, but to her production prowess. The blends of subjects and instruments make the album stand out against many other piano works that are truly homogenous."
************************************************
REVIEW - Roberto Vales, Radio Host, "A Ultima Fronteira Radio"
(The following comment is in Spanish. See English translation below)
A Ultima Fronteira Radio Blogspot 22 enero 2008 Kathy Raimey - It Is Always Now
"Kathy Raimey nos presenta "It Is Always Now", un disco donde el piano, el ambient, la música electrónica y voces femeninas se fusionan en perfecta armonía para crear una magnífica banda sonora de la vida.
"It Is Always Now" comienza con magnífico tema ambiental ("Sustainable Space") que nos va introduciendo a lo que nos podemos encontrar en este trabajo para a continuación seguir con un precioso tema de piano y es que en este trabajo nos encontramos con una sucesión de temas ambientales y temas al piano, algunos de ellos improvisados. La sorpresa de este disco es el tema que le da título al mismo, un mantra recitado con voz femenina, acompañado de percusiones y paisajes electrónicos, un tema sorprendente para una mujer fascinante y este disco se cierra con la versión extendida del tema con el que comienza este viaje por la música de Kathy Raimey.
Ambient, electrónica, piano, mantras, ¿que más podemos pedir? "It Is Always Now" un interesante trabajo creado con el corazón para reflejar esos sentimientos profundos que en muchas ocasiones nos cuesta mostrar pero que sabemos que están ahí." Etiquetas: Novedades posted by Radio Host, Roberto Vales, Ultima Fronteira Radio at 23:24 English Translation of Roberto Vales Review "Kathy Raimey presents us with "It is Always Now", a disc where piano, ambience, electronic music, and feminine voices fuse together in perfect harmony in order to create a magnificent soundtrack to life. "It Is Always Now" begins with a magnificent ambient theme ("Sustainable Space") that introduces us to what we will find throughout this work. It continues on to a precious piano theme, and a succession of ambient and piano tracks, some of which are improvisations. The surprise of this disc is the title track, "It Is Always Now", which is a mantra piece with female vocals, accompanied by electronic percussion - a surprising theme from a fascinating woman. The CD closes with an extended version of the opening track that started us off on this journey through the music of Kathy Raimey. Ambience, electronics, piano, mantras, what more could we ask for? "It Is Always Now" is an interesting work created with the heart to reflect those profound sentiments that on many occasions we decline to show but that we know are always there."
************************************************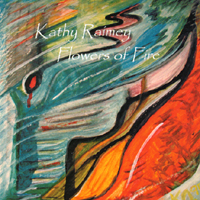 KATHY RAIMEY Flowers of Fire Spiral Soundcase (2001) REVIEW - Kathryn Sargent, Aquarius Times "Imagine walking along the beach in the early morning, listening to the quiet hiss of gentle waves, feeling the sand give under your bare feet, and noticing the soft, pastel colors around you. This is the gentle, reflective quality you will find in Kathy Raimey's debut CD, "Flowers of Fire." Her soft piano improvisations were conceived in the early hours of each morning when she was "still close to the dream state," and the music is perfect for that time of day, or for meditation or healing work. The sound of ocean waves provides the background for the pensive, heartfelt melodies that soothe and comfort the listener. "Flowers of Fire", with its beautiful cover art, also by Kathy Raimey, will only be found in a few local stores and on Raimey's website, www.cdbaby.com/kathyraimey, as she is a local, independent artist who is not yet represented by a distributor. It's worth the effort to seek it out!" Aquarius Metaphysical Newspaper Article: World & New Age Music Reviews Volume 9, No. 3 - August 2001
************************************************ REVIEW - Richard Fuller, Metaphysical Reviews "Artist, composer and pianist Kathy Raimey offers us the means to find healing and bliss in her wonderful new CD, "Flowers of Fire". This inspired album can easily be at the top of your stack in these times of stress and anxiety. Each of the five original compositions are soothing and meditative and each will transport the listener to a better place---found only in your heart. Kathy plays these delightful piano improvisations as if they were dedicated to you; for your time of need or solitude. If "Flowers of Fire" could be transformed into three dimensions, you would be surrounded by flowers in a field on a late spring day, the sun shining brightly and the breeze murmuring gently. Or perhaps walking on the sandy shore of an azure lake, with the waves gently lapping at your toes, caressing them with warmth and well-being. This reviewer found a glorious sense of peace thanks to the transforming quality of "Flowers of Fire". In only a few minutes, I felt calmer and that sense continued to serenity. In short, I was able to leave the world of hurry and haste and enter a world of soft and gentle. If you want to refocus to a healing, pensive state, this reviewer heartily recommends "Flowers of Fire". Kathy Raimey plays from her heart and you'll know it from the first five notes of her music!"